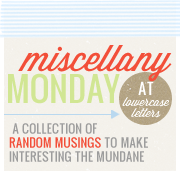 Ending Monday with a bunch of randomness...
1. I am in a mood today...that I just can't seem to get out of...a lot of it has to do with work...and I am hoping that a restful night at home tonight will put me in a better mood for tomorrow. Why does it seem like December sometimes brings out the worst in people instead of the best!? I am trying not to let the downers that I am having to talk to on the phone today at work get the best of me...but it is seriously almost too much!
2. My final Thirty-One Gifts party is tomorrow night -final one before Christmas/the New Year that is.... And wow what a year it has been! I can't believe I should be a Director next year! Woo Hoo!!
3. I want to watch Christmas movies tonight...I need some holiday cheer.
4. My sister's MIL, sent me a package of Mocha Mint Dunkin Donuts coffee...and I am loving it! Thank you!! :) We are enjoying it at work!!
5. I need to clean our bathroom...I know..RANDOM....but it is on my To Do list tonight.
6. I wrapped 4 Christmas presents last night...progress is being made!
7. I would really love for it to SNOW...it's true...I need some SNOW.
8. I am SO excited for Friday!! It is our 2nd annual Christmas Baking Day with the ladies in my family...plus Little "I"...can't wait to hang out with all of them for the day!
9. I am wondering if anyone out there has a Cookie Ornament recipe??...after looking back all my old ornaments from the past...there is one that I wish I had that someone had made me when I was young..it looked almost like a sugar cookie. I would love to find the time to make some...SOME DAY.
10. And finally...I need to start working out again...I am suppose to be running a 5K again at the end of January...so hard to hit the gym in the dark and cold...Thank Goodness for my friend/neighbor that is keeping me motivated.
Happy Monday!!